SMART SPLICE™ PRO Series A/C
AIR CONDITIONING LINE REPAIR
Everything you need for A/C line repair in one convenient kit (18 Repairs).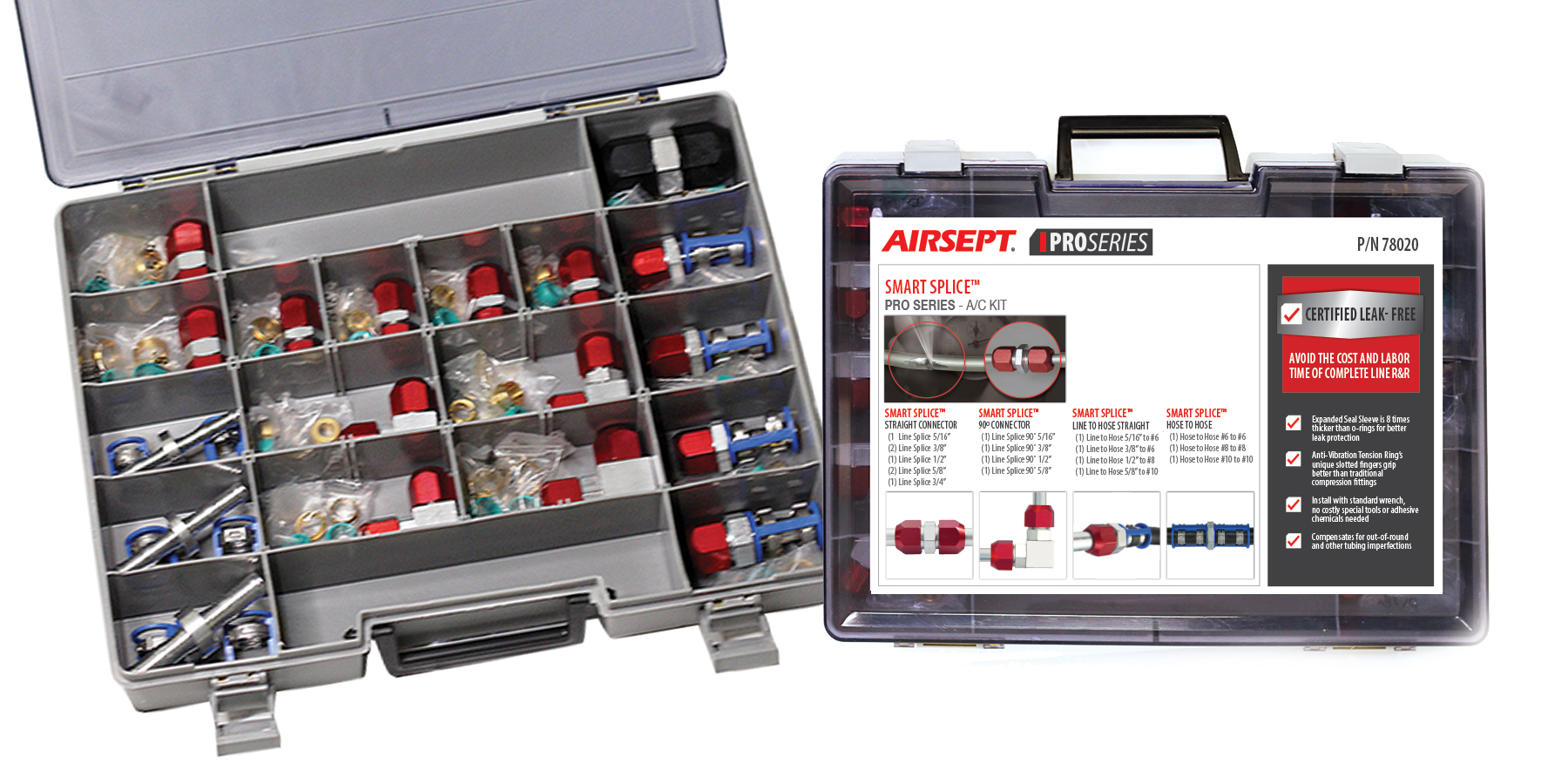 The SMART SPLICE™ PRO Series – A/C includes 18 repairs, making it ideal for any repair shop. With Smart Splice connectors for straight, and 90˚ line-to-line repairs, straight line-to-hose, and hose-to-hose, technicians have everything needed to quickly and effectively repair or build A/C lines.
Smart Splice line repair products are superior to traditional compression fittings thanks to AirSept's proprietary sealing technology that contributes to long service life. A unique HNBR seal sleeve dramatically expands the sealing surface and a high-tech anti-vibration tension ring ensures repair durability in heavy vibration automotive applications.

SMART SPLICE PRO Series – A/C
18 Repairs Include
SMART Splice™
Straight Connector
(1) Line Splice 5/16"
(2) Line Splice 3/8"
(1) Line Splice 1/2"
(2) Line Splice 5/8"
(1) Line Splice 3/4"
SMART Splice™
90º Connector
(1) Line Splice 90˚ 5/16"
(1) Line Splice 90˚ 3/8"
(1) Line Splice 90˚ 1/2"
(1) Line Splice 90˚ 5/8"
SMART Splice™
Line to Hose Straight
(1) Line to Hose 5/16" to #6
(1) Line to Hose 3/8" to #6
(1) Line to Hose 1/2" to #8
(1) Line to Hose 5/8" to #10
SMART Splice™
Hose to Hose
(1) Hose to Hose #6 to #6
(1) Hose to Hose #8 to #8
(1) Hose to Hose #10 to #10
DESCRIPTION
PART NO.
SMART SPLICE™ PRO Series A/C
SMART Splice™ 18 Repairs: SMART Splice™ Straight CONNECTOR (1) Line Splice 5/16" (2) Line Splice 3/8" (1) Line Splice 1/2" (2) Line Splice 5/8" (1) Line Splice 3/4" SMART Splice™ 90º CONNECTOR (1) Line Splice 90˚ 5/16" (1) Line Splice 90˚ 3/8" (1) Line Splice 90˚ 1/2" (1) Line Splice 90˚ 5/8" SMART Splice™ Line to hose straight (1) Line to Hose 5/16" to #6 (1) Line to Hose 3/8" to #6 (1) Line to Hose 1/2" to #8 (1) Line to Hose 5/8" to #10 SMART Splice™ Hose to Hose (1) Hose to Hose #6 to #6 (1) Hose to Hose #8 to #8 (1) Hose to Hose #10 to #10
78020
---
In 1989 AirSept created the first long-lasting solution to the problem of unwanted mold and mildew odor in automobile air conditioning systems. The product became popular so quickly that by 1991, AirSept incorporated and began partnering with global OEMs and suppliers to not only market our Cooling Coil Coating, but to also develop other unique new products.
Read More >>
743 LAMBERT DR. NE,
ATLANTA, GA 30324
(+800) 999 1051
(+678) 973 2287